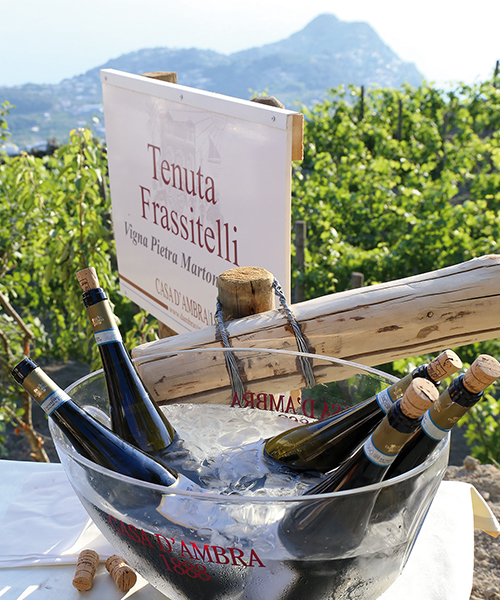 Casa d'Ambra vineyards
TOUR THROUGH THE VINEYARDS OF THE FAMOUS WINERY

Looking up at the Epomeo, the green island shows its antique heart, made of carved out vineyards, terraces and walls that defy gravity.
Talking about wine on the island of Ischia means to talk about Casa D'Ambra, the historic winery founded in 1888, with the highest value in terms of bottles produced per year.
To know more about it the enterprise suggest a series of tours, including one in "Frassitelli" the jewel in the crown of Casa D'Ambra.
The vineyard Frassitelli is located 600 mt above the sea level, a vineyard extended on an area of 400 mt lengthened on old boundary walls that run over the peaks of the Epomeo mount, like arms protecting it from the falling rocks.
Another trail suggested is the one in the main wine cellars which cover an indoor space of 3500 sqm, including squares and operating structures. With exquisite architecture the building held in the natural amphitheater comprising slopes and terraces at the foot of the Epomeo Mount.
Still another trail takes to the one and only farming museum of Ischia, offering the possibility to discover the preserved economy of wine production. A story suspended between wine and sea, from the old Greeks to the present